Restauration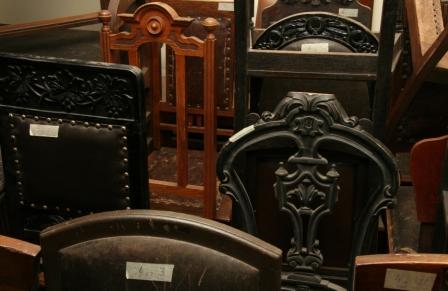 Restoration is carried out with application of the ancient techniques, allowing to keep primary appearance and functionality that is the basic merit of restored furniture or an interior piece. That there was no vulnerability in relation to chronological essence of a product, modern methods of restoration are used extremely seldom when restoration process excludes possibility of damage of furniture.
Restoration works usually begin with strengthening of the basic design that gives to a product primary stability. Further restoration of a facade with use of a method of veneer which is carried out by old traditions with use of hot glue. Then we renovate absent elements, a carving, laths and other elements of furniture. Some elements if it is required, are made anew, and for small superficial damages "prosthetics" is used.
Process of painting and decorating begins with the client choice of toning. Then we make varnishing, greasing, waxing. The most expensive, but the most effective is polishing with of shellac. Roots of the given method of furnish comes from ancient times, and experts who qualitatively and skilfully use this method are so little . Experts of our workshop who use this technology of polishing, are highly esteemed by colleagues from Europe.
Why to restore?
The talented master of the ancient furniture, who used natural materials, creating the masterpieces, assumed that on the expiration of certain time there will be the skilled restorer, capable to products to inhale new life. Each ancient furniture possesses a shred of soul which was enclosed in due time by the master.
Considering a question on purchasing of new furniture instead of old, whether it makes sense to estimate is it necessary to invest in new purchase which can shortly come in worthlessness and will be not restore? Or to restore furniture and element of interior which can serve still long enough as before. Can all the same the enclosed means in restoration of furniture will please still your eye and your grandsons.